Hosteria Outsider, Segundo Piso - Second Floor - Erster Stock

En el segundo piso de la Hosteria Outsider estan situadas las cuatro habitaciones, el salòn de estar y la cocina.


Three double and one triple room, the lounge and the kitchen are located on the second floor of the Hosteria Outsider.


Im ersten Stock des Outsiderhauses befinden sich die vier Zimmer, der Aufentalsraum und die Frühstücksküche der Hosteria Outsider.



---
Home Astronomie Auto Exkursionen Facebook FAQ Flora Forum Fotogalerie Geografie Heilpflanzen Karten Kontakt Landesinfo Links Memospiel Neues Postkarten Puzzle Quiz Regionen Reiseberichte Reisekosten Screensaver Streetview Suchen Vogelwelt Vulkan Wetter Winter Zeitumstellung
---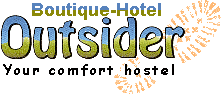 © Arvid Puschnig, Hosteria Outsider, San Bernardo 318, Puerto Varas, Chile, Impressum